Pariwar Club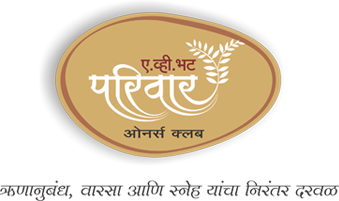 A V Bhat Homes is considered to be a pioneer in the field of building construction industry in Pune. A V Bhat customers, across more than 40 schemes, number close to 3,500 families. According to late A. V. Bhat, the relationship between a developer or builder does not end with handing over the flat. In fact, that is just the beginning. Accordingly, in order to connect with their customers, pariwarcurrent as well as those from schemes built way back in 1960s, A V Bhat Homes have formed the A V Bhat Pariwar Owner's Club. The commitment to the customers and the trust that they have generated in them is evident from the fact that the old and new customers have become a part of this endeavor. Definitely, a meaningful connect by A V Bhat Homes. Various initiatives and programs will be undertaken, under the aegis of the A V Bhat Pariwar Owner's Club, for building and cementing the relationship between A V Bhat Homes and it's customers.
Photo Gallery
Pariwar Club
Pariwar Benefits
Membership to the A.V.Bhat Pariwar Club
Hosted by the Directors of A.V.Bhat where you not only interact with them but also 10,000 other Pariwar members like yourselft.
The A V Bhat & Co. Pariwar Owner's Club was launched in Pune at a special programme,"Milestones", organized to mark the beginning of this new connect. To see this initiative get off the ground were present celebrities like Prashant Damle, Dr. Girish Oak, Ravindra Mankani, Sudhir Gadgil, Smita Tambe, etc.
Click here for Pariwar Owner's Club Registration
Click here for Pariwar Owner's Club Business Directory Registration